FINDING ALLIE – BOOK 1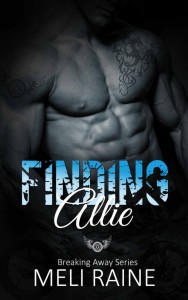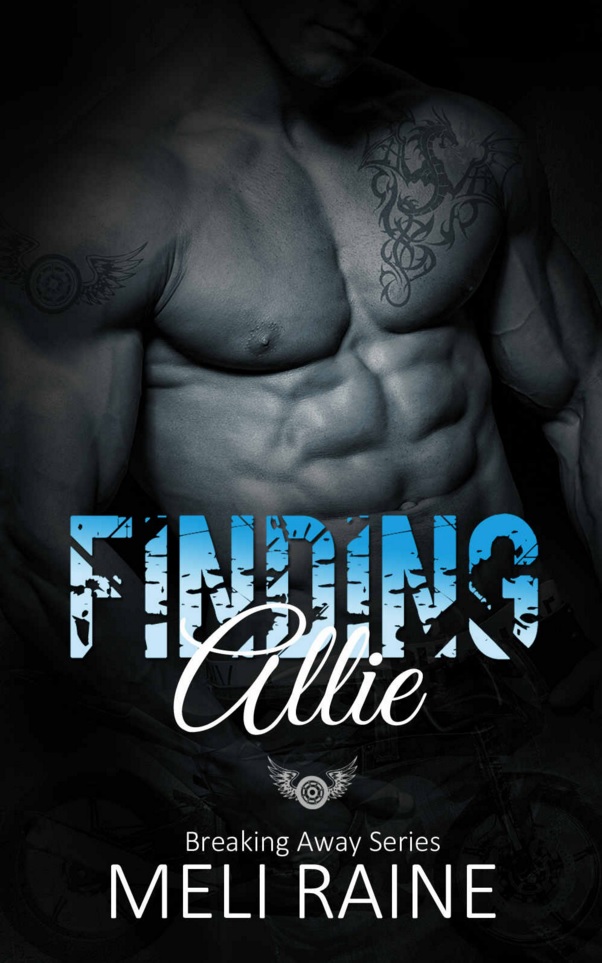 Chase Halloway's father is the president of Atlas, the drug dealing motorcycle gang that terrorizes most of our desert town.
My stepfather turns out to be a rival drug dealer, and I'm pretty sure he killed my mom two years ago.
I'm not supposed to fall in love with Chase. He's not supposed to know I even exist.
But when he finds me, he can't let go.
And when I find myself in his arms?
I hold tight. I have to.
Because if I don't, I might just die.
With or without him.
"WOW!! Just plain old wow! Chase and Allie have explosive chemistry from the moment they meet! The author did am amazing job setting up this forbidden love story. I liken it to Romeo and Juliet with Juliet's family being from Breaking Bad and Chase's from Sons of Anarchy."— Goodreads reader review
---
CHASING ALLIE – BOOK 2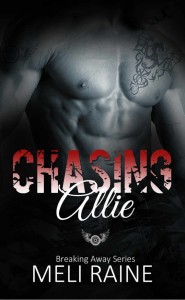 It turns out my stepfather has plans for me.
Plans that make dying look like a walk in the park.
He's selling my virginity to a Mexican drug lord to get out of debt. Chase just found out and is here to take me away to safety. To the ocean. To my dreams.
But while I'm gone, a murder takes place back home. I receive a phone call. It's the police.
I'm the prime suspect.
And if I go back, I may become the prime victim.
They say love conquers all, but can Chase save me from this?
"This book starts exactly where Finding Allie (#1 book in this series) ends.
And it keeps getting better and better!" — Goodreads reader review
---
KEEPING ALLIE – BOOK 3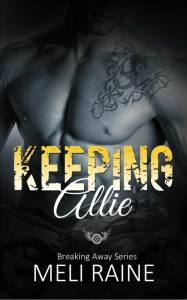 Help.
I'm alone, tied up, bleeding and terrified.
I'm a prisoner at the Atlas motorcycle club compound. Someone kidnapped me, and it looks like it's Chase.
No one knows I'm here. Then again, I'm no one, right? No mother, no stepfather, and my sister may have been kidnapped, too.
They can make me disappear. Or worse. It turns out there are worse things than disappearing.
I thought Chase was my only hope. Now he turns out to be my worst nightmare.
Something flickers in his eyes, though. A glimmer of love. If I can get him alone, maybe I can convince him to let me go. To let me live.
To let me go back to a time when I thought he was a good guy. Only Chase has the power to make that happen.
Everything I am is in his hands right now.
And those hands are about to touch me.
"What an ending to a great series!! I cried laughed and was held in suspense throughout this book — in fact, the whole series." — Goodreads reader review
---
THE BREAKING AWAY SERIES BOXED SET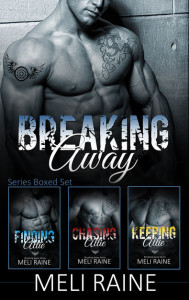 What if Romeo and Juliet had a happy ending? The son and stepdaughter of rival drug dealers, Chase Halloway and Allie Boden know the odds are stacked against them, but love doesn't care about odds. Love only wants to find a way.
Chase Halloway knows he'll take over his father's motorcycle club when old Galt Halloway's done, but he has dreams. Plans that have nothing to do with the drug ring his father's so carefully built since Chase's mom died years ago. Untamed and unmoored, when he sees Allie for the first time he realizes maybe the future doesn't have to be so lonely…
Protected by Chase during a blow-out brawl in her stepfather's bar, Allie can't believe the tattooed, muscled man who has eyes only for her really wants her…forever. With a past marred by her mother's death and a stepfather who won't let her leave for sinister reasons she doesn't understand, she wants to choose Chase and her own fate.
Drawn together by an attraction so strong they can't find words for it, and unable to resist a physical temptation so strong they can't deny it, can Chase and Allie's love survive kidnapping, murder, false accusations and more?
The Breaking Away Series Boxed Set contained the entire romantic suspense trilogy: Finding Allie, Chasing Allie, Keeping Allie. Each is a full-length novel, and by the end of book three Chase and Allie get the happily ever after they so richly deserve.
"You will be hooked from the moment you start this series. Romantic, suspenseful, and full of surprises." — Goodreads reader review